Use live data with our custom dashboard to educate your building occupants about energy efficiency. The Energy Efficiency Education Dashboard® enhances the story of your building's performance and green features.
QA Graphics' Energy Efficiency Education Dashboard® (EEED) is a web application that educates building occupants with real-time energy data and green building features. Our dashboard uses the latest web technologies and communicates with your data through our Bridge Data Manager®. This product is ideal for any organization wanting to teach others about their green building features and energy efficiency practices. The dashboard is used by schools, universities, businesses, healthcare facilities, data centers, and more.
Customizable features and personalized branding
Helps acquire points toward LEED certification
Provides users with applicable take-aways
One flat cost with no recurring fees*
Resides onsite at your building
*Add-ons and change orders will result in additional cost.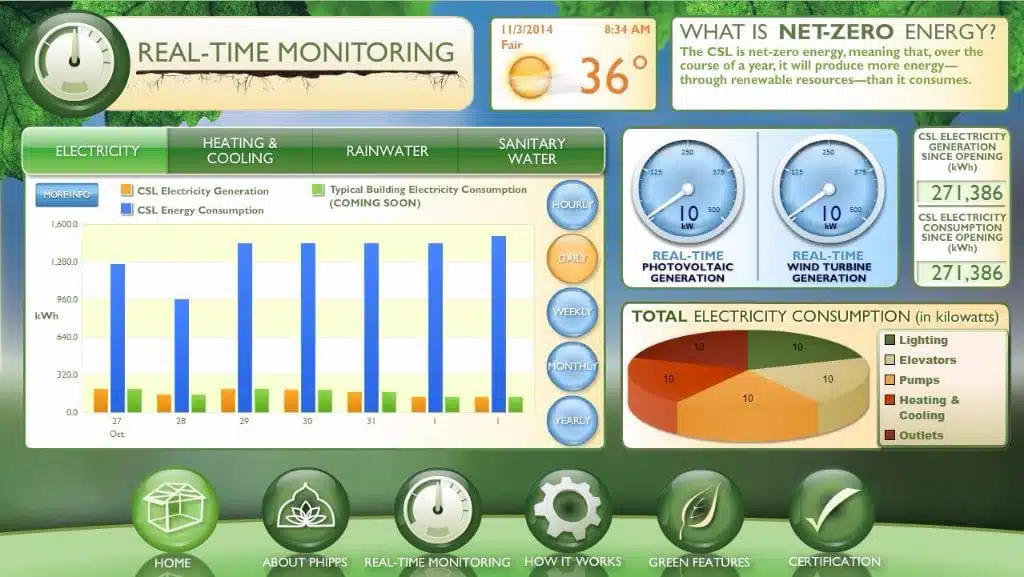 Specify our dashboard for your LEED project. 
Leave the spec writing to us. Our sales team has experience writing energy dashboard specifications and can customize to meet the needs of your project.
EDUCATE, COMPARE & DISPLAY
Educating your occupants helps them understand their energy consumption, creating a sense of personal responsibility to make more sustainable decisions. The EEED creates occupant awareness through the display of building performance data, demonstrations of sustainable building features, energy efficiency tips, and other interactive educational features.
The EEED also lets you compare building performance data among buildings and/or floors.  Energy dashboards communicate with the building automation system (BAS) or other devices to display the data in a way that's easy to understand.
Share the interactive web application on a display in a common area or on any web enabled device.
CUSTOMIZE YOUR DASHBOARD DESIGN
QA Graphics can customize the design and functionality of your dashboard. Choose from the features below and contact us today to get a price quote for the dashboard of your dreams. Popular features include: 

GREEN FEATURE DEMOS
Highlight your building's sustainable features with dynamic visual demonstrations.

ENERGY SAVING CALCULATOR
See savings per year, months to payback, and lifetime savings for specific energy efficiency initiatives.

CHECKLISTS
LEED®, CHPS, and Green Globes – Showcase the sustainable efforts you have made in the design and construction of your building.

BUILDING PERFORMANCE
Display your facility's performance metrics on easy to understand charts and gauges.
Company Information
Building Information
News Feed
Curriculum Documents
Area Attractions Map
Advertising Space
Sponsor/Donor Recognition
Image Galleries
Educational Demos
Weather Conditions
Building Floor Plans
Sustainable Initiatives
Efficiency Leaderboard
Campus View Map
Environmental Tips
Interactive Quizzes
Our partnership with NEC Display Solutions of America allows us to provide a variety of commercial-grade touchscreens, kiosks, and LCD displays at a very competitive price.
Integrated touchscreen features include:
Commercial-Grade monitor and Infrared Multi-Touch Overlay
3 year warranty
Open Pluggable Specification (OPS) PC with Intel Core i5
Round-the-clock scheduler allows for 7-day planning of content and powering
Mounting brackets not included, but can be added at additional cost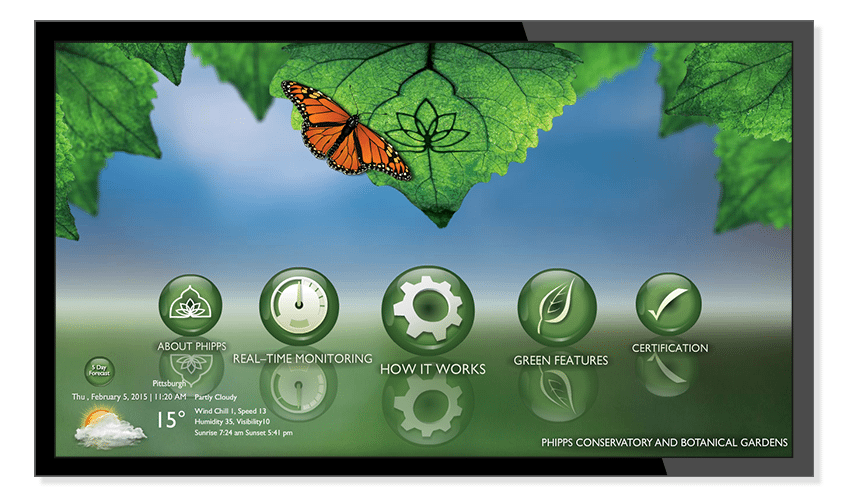 The Bridge Data Manager® is the backend component to our energy dashboards. Is serves as the middleware between your BAS gateway and the EEED. Bridge lets you capture data accurately and efficiently, in real time. The software has flexible licensing options and is built on the powerful Microsoft .NET framework to run as a Windows service. It can be easily deployed in any network to fit with your IT security policies.
View your data through the Data Manager's user interface, and connect with Microsoft SQL to control the data collected from any of your building sources.
Features include:
Click and drag on charts to view different data ranges

Create manual entry points or add existing points from your BAS

Easily import historical data

Export reports to share data in familiar formats

Group data for easy comparisons
The solution looks great and is very user friendly. The interactive demonstrations are the most used feature on the dashboard, showing how the geothermal and solar panel systems work.
NATE GEINZER
Assistant to the City Manager
– The City of Farmington Hills