QA Graphics provides high-end floor plan graphics that can be integrated with most building automation systems. We can take your Revit Files, AutoCAD files, PDFs, or sketches, and provide professional floor plan graphics. Our design team can create photorealistic 3D floor plan graphics to be as basic or as detailed as you wish. We have the knowledge to include ductwork, mechanical zoning, furniture, and dimensions.  All 3D packages start at $200.
Click on the images to make them larger.
Floor Plans For Building Automation
3D floor plans are a must-have for anyone working in the BAS industry. In the BAS world, technicians and operators can have 3D floor plan graphics that include point mapping. All we need is your database or VPN access in order to bind the graphics to your system, all of which can be done remotely. Our Mechanical engineers work with our 3D modeling team to make sure everything looks as well as it functions.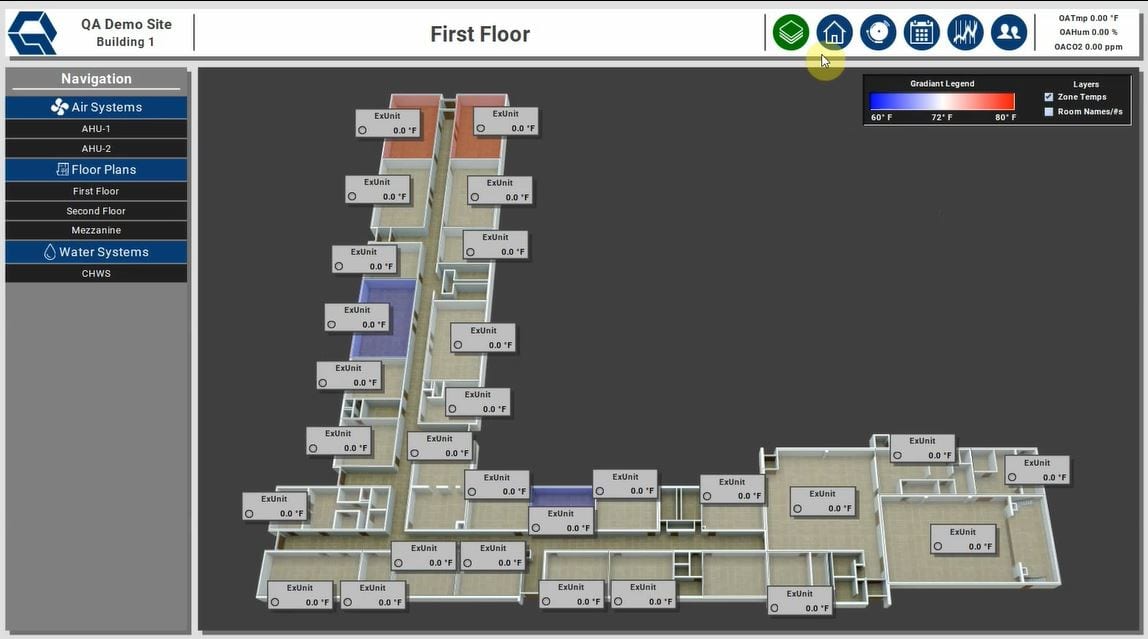 We are ready and equipped to handle all your 3D floor plan graphics needs. With a highly skilled staff, we offer multiple template and package options that include as much or as little detail that you or your client desires. You can call anytime and talk to our experienced sales team who can help pick the best option for you or let them help tailor a 3D architectural floor plan that is unique to your project. Our mechanical engineers, drafters, and modelers are the best in the industry and have degrees that are relative to the work they do, ensuring you get the best quality floor plans available.
You receive the fastest and most accurate floor plans in the industry that helps with overall 3D visualization
Using competitors can be costly and end results may vary in precision
QA offers a variety of 3D floor plan graphics options to meet your specifications, budget, and timeline
Our template and package options can give you an idea of what you want/need
QA has been making the best, high-end floor plan graphics for over 13 years, in-house in Central Iowa
Ordering more detail-oriented 3D floor plan layouts can be complicated, that's why our sales team is ready to answer any questions you may have
We have mechanical engineers, drafters, & modelers who work together to seamlessly create 3D floor plan designs with complex mechanical systems, ductwork, zoning, etc.
We hire the best in the industry so we can deliver the best quality floor plan graphics
All of our architectural-style floor plans can have a rush order placed on them, if you find yourself in a crunch for time

The more projects I get wrapped up in, and then see what is important to the customer, it is the graphics. They don't care about all the work I did on the back end, the programming, the cool features, the way the software works. It is the front end. The doors correctly placed, the walls, looks, etc. That is why I like working with you guys. You do a great job and make it look really good.
Houston White 
– CEC Companies –