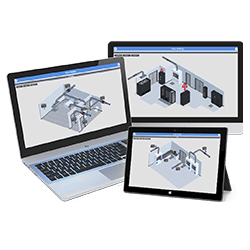 These BAS graphics are provided for more specialized rooms where there would be multiple systems serving that space. Benefitting from having an overall graphic showing it as a whole more accurately with representational room symbols.
WHY SPECIALIZED ROOM DESIGN?

EASY TO USE
The .PNG symbols are provided in isometric view, all parts are separate pieces, and is compatible with most major mechanical systems, including a Niagara N4 module.

BE CONSISTENT
The difference in QA Graphics' libraries is sold as a package for a one-time fee. Along with the ability to use the library on all projects at your location. Making your projects look and feel consistent.

ONE GRAPHIC
These rooms are generally closely monitored and more sensitive to issues. Seeing all systems serving the room on one graphic is ideal compared to multiple pages to sift through.

HIGH QUALITY
If you are looking for a more notable look, provide your customers with this higher-quality representational room symbol graphics than with what is typically provided with BAS software.
We have added over 200 representational symbols for Data Rooms, Labs, and Hospital ISO rooms. Our representational 3D Room Symbol Library graphics images include ductwork, equipment, furniture, icons, flooring, walls, sensors, and other miscellaneous components.
Not seeing a representational symbol or view you are looking for? Let's talk.
Our representational graphical symbols provide a higher-end library for specialized rooms that will often have multiple systems serving it and would benefit from having an overall graphic showing the room as a whole.
Images: The 3D Room Symbol Library is sold as a whole. Images are provided in PNG and GIF file formats. Contact us for other formats.
Timeline: When the purchase order has been finalized, you will receive the graphics files within 1-2 business days. Time may vary for custom solutions.
View the 3D Room Symbol Library Pieces
Some images may appear larger for viewing on the website than what they actually are.
Tridium Niagara 3D Room Symbol Module
This tool is an extension update of our existing 3D Room Symbol Library that will easily replace N4's existing graphics file. This representational 3D Room Symbol Library module will effortlessly integrate within the software, allowing N4 users to implement QA Graphics' new representational 3D Room Symbol Library. While this new symbol library module is for the Niagara N4 software only, the representational 3D Room Symbol Library files can be delivered for any control system.
In addition, QA Graphics is also offering companies a free test module to try within their Niagara system beforehand.
Same representational 3D Room Symbol Library just now in an easy to use module for N4
Allows you to easily substitute N4's existing graphic files
This module is free of charge to whoever owns the representational 3D Room Symbol Library
Offering companies a free test module to try within their Niagara system.
See our representational 3D Room Library and Tridium Module in action in the videos below.
QA Graphics has been instrumental in building our user interfaces.  The different options gives us scalability with our interfaces and budget.  Using QA as a resource allows us to keep our staff focused on other things.  They have earned our business not only with great graphics but fantastic customer service.  The communication throughout the process is painless and impressive.  Thanks, QA!
TYLER BARETT
Sales & Business Development
– Elite Automation –