QA Graphics' first major project as a company was building a custom symbol library for one of the largest building control manufacturers in the world. They looked to us, even as a new company, due to the early investment we made in state-of-the-art 3D software and rendering equipment, plus our expertise in creating system graphics for building automation systems. The company hired us to develop a custom look and feel that would separate them from the competition. We provided a 3D pieces-and-parts library with animations, as well as an extensive set of prefabricated system graphics. The customer embedded this into their software to distribute to end users. With this experience, QA Graphics went on to create several other custom libraries for control manufacturers across the globe. We have created a total of eight libraries since 2006, of which three are still in use. 
While we always welcomed the manufacturers' need for custom-built, embedded symbol libraries, a new opportunity came to light. The system integrators who represented these manufacturers also had a need to have their own look and brand when it came to building system graphics. We took the years of work and developed our own graphic libraries, specifically catered to system integrators to use to differentiate themselves in their own markets. The result is the V5 .png library and the Vector library. 
We have two types of BAS/BMS/HVAC symbol libraries. These libraries are pieces and parts, with separate animations. They are used to design system graphics within the BAS. Like floor plans, they are representations of the mechanical layout of the building in detail. The end user or building operator uses these graphics to make changes to the system inside the building. An example of this might be when, within a hospital, the operator gets a request to change the temperature in an operating room. They would go to the floor plan to find the specific operating room, click on that room, then find the air handling unit graphic/data point and change the temperature. 
Our first symbol library is composed of .png images and animated .gif, or a series of images, to build animations in some systems. This is the most common file type for symbol libraries in our industry. We are on version five of ours, and it has been around since 2008. 
Our second library is composed of .svg and animations, and it is a true vector library. It will scale to whatever size you are displaying it on. It is our newest library but limited to just a few manufacturers' software, as our industry is behind on web-based UI. We mostly sell this to someone using Tridium's Niagara V4 software. Both libraries are sold as a one-time purchase to be used repeatedly for customer projects. 
Reasons to Purchase a Symbol Library 
Symbol Library V5
More aesthetic look to graphics, system integrators can differentiate themselves from local competition with a better-looking user experience. 

One-time purchase price

Extensive number of images and animations

Can be used in multiple systems that support .png file type.

.JAR module.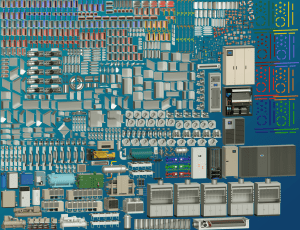 Vector Symbol Library
True vector functionality (responsive for web-based applications).

One-time purchase price.

Extensive number of images and animations.

.JAR module availability.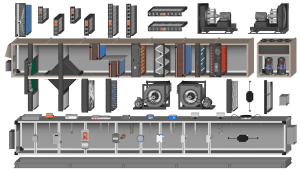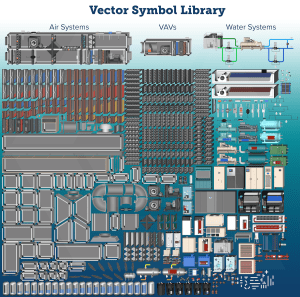 …
For more information on our symbol libraries, contact QA Graphics today.