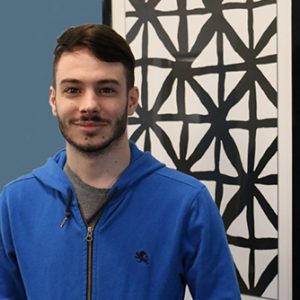 Our Quick learning, think tank, and hardworking 3D Modeler, Andy Lawson is celebrating 1 year at QA Graphics this month. As a 3D Modeler, Andy works with clients and staff to manage projects and produce compelling 3D design and animation.
Andy has a Bachelors of Fine Arts in Graphic Design from Iowa State University. In addition, he has minors in Performing Arts, Digital Media, and Design Studies. Prior to joining the QA Graphics team, Andy worked as a Video Producer/Editor at ELO at Iowa State University and a Game advisor at GameStop in Ames. His experience in his field includes Adobe CC photoshop, Illustrator, InDesign, Dreamweaver, After Effects, Auditions, Premiere, Cinema 4D, Blender, and Unity.
Over the last year at QA Graphics, Andy has enjoyed being able to jump into multiple areas to fill in and help where needed. He also "Enjoys working with great and helpful people in a fun atmosphere, getting to do what I love."
When Andy isn't working he is learning new skills, making movies, video games, music, and comics. He also enjoys writing stories, going to movies, playing games and just nerding out 24/7. Andy is the owner of 2 cats who act like dogs, named "Marshall" and "The Great Catsby".