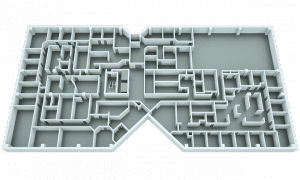 QA Graphics has become a fixture in the commercial building industry. Over the past decade, customers have been utilizing their professional design services providing premium floor plans. The 3D floor plans are integrated into building automation systems. The quality of this design has been a key driver toward the continued high standards of work that leads to lasting relationships and recurrent business.
Recently a company operating in the Temperature Control and Building Automation business based in Missouri,

looked to QA Graphics to complete a series of floor plan contracts. What attracted them to QA Graphics was the appealing finished product they provide with 3D floor plan work. The product offering creates eye pleasing graphics for the end customer to use for graphical representation of their HVAC and overall building performance. A key performance metric is showing equipment location and use of thermal graphic overlays to quickly locate problem areas.
When asked about working with QA Graphics the Control System Applications Engineer and Systems Integrator, Matt Cafazza said, "The QA team has been great to work with.  They have been very cooperative in helping resolve issues through the whole course of the project.  The Graphics packages they have been delivering is impressive and easy to navigate. We have been pleased with the time of turnaround, and complete delivered packages.  The follow up after deployment has been excellent as well."
QA Graphics provides professional floor plan graphic development for those who do not have the resources or time to create them. QA Graphics can take existing AutoCAD files, PDFs, sketches, or anything with an image and provide professional floor plan graphics. The design team can provide drafting solutions in 2D, 3D, and photorealistic design. Floor plan graphics can range from simple, basic, or complex and include the building details such as zoning, windows, built-ins, railings, etc. Floor plan graphic projects are provided with fast turnarounds, typically less than 7 business days. To view examples, visit http://www.qagraphics.com/bas-design/floorplans.