The confusion in the industry between what exactly a building management system (BMS or BAS) does and an energy management system (EMS) does is prevalent today. People continue to use these terms interchangeably, when really the functions of these systems are different, although they do work together closely.
A survey conducted by MACH Energy in 2015 indicated that 44% of 800 facility managers believed they had an EMS when in reality more than 70% actually had a BMS. These results proved that even the users of these tools have ambiguity in their understanding of how these systems operate and what they do.
Let's clear up what some of the main differences are among EMS and BMS to help differentiate what the functionalities of each of these systems are.
A building management system or building automation system is a computer-based system that controls and monitors the buildings mechanical and electrical equipment such as ventilation, lighting, HVAC, power systems, and fire and security systems.
An energy management system refers to a platform used to improve energy performance by detecting, monitoring, and controlling energy consumption and costs. These are great tools when implemented correctly and can be very rewarding when facility management strategically plans based on the needs of the users of the building and the information the EMS provides them with.
Key Differences:
BMS are built for dealing with historical data or reporting, they are primarily used in real time. BMS is used to make sure the mechanical systems work individually, but also in conjunction with each other, to determine that the building can operate effectively and keep occupants comfortable.
EMS are primarily a reporting tool, as they are used to track information and record it over time. They are most commonly used when organizations want to optimize building performance by gaining full control over energy consumption or when production of something requires specific conditions that must be met and verified with a time stamp.
Over time, EMS functionality has been added to many BMS and vice versa. This increasingly popular combination of the two systems is due to people wanting to optimize energy consumption in their building for sustainability purposes and/or to reduce costs that were being spent on wasted energy.
An article from Dexma simplifies the main functions of a BMS as the doing and acting components, and an EMS as the planning and checking elements of an energy management project. While BMS and EMS do work together closely, the functions of these two systems are separate.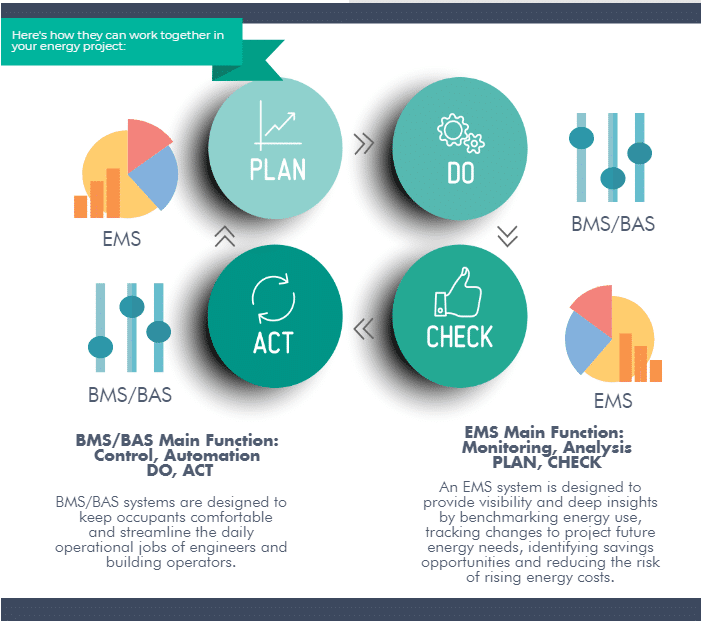 Learn more by checking out the sources below:
Energy Management Today, Study: Confusion, Growth Opportunities in Building Management Systems
Building Automation vs Energy Management Software
Energy Management Systems are Great Tools — If Used Correctly