QA Graphics, a full-service digital design company, won two Platinum Hermes Creative Awards for its Bridge Data Manager Video and MacNeil Carwash Configurator.
QA Graphics' first entry, The Bridge Data Manager Video, was awarded a platinum award in the Marketing (Service) category. The Bridge Data Manager Video was created as a marketing promotion tool used to communicate the benefits of the newly developed product to customers. The Bridge Data Manager is a stand-alone data logger, that captures data accurately and efficiently in real-time. Users own and control their own data. With flexible licensing, this affordable software is ideal for projects of all sizes. The Bridge Data Manager is used by colleges and universities, healthcare facilities, municipalities, transportation management companies, commercial real estate firms and manufacturing organizations, to name a few.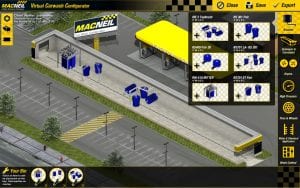 QA Graphics' second entry, The MacNeil Carwash configurator, was awarded a platinum award in the Mobile & Web-Based Technology category. MacNeil worked with QA Graphics to develop an interactive sales application to help customers fully visualize their carwash conveyor layout, and to provide customers with instant feedback to simplify the decision making process. The MacNeil sales team can create an instant report with contact information, equipment ordered, and an image of the preferred layout to expedite the quoting process.
The Hermes Creative Awards is an international competition for creative professionals involved in the concept, writing and design of traditional materials and programs, and emerging technologies. Entries come from cooperate marketing and communication departments, advertising agencies, PR firms, graphic design shops, production companies, web and digital creators and freelancers. There were about 6,000 entries from throughout the United States and 22 other countries in the Hermes Creative Awards 2015 competition. About 15 percent of the entries received platinum, the highest honor. About 22 percent received gold recognition and 11 percent honorable mention.