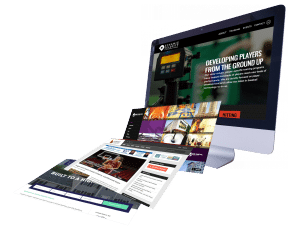 QA Graphics is proud to announce its new partnership with Solvent Web. Both businesses will team up to create QA Web, a company devoted to providing unique web development and design services for small to medium-sized businesses. Their end goal: to offer affordable, well-built websites that help other companies stand out.
"After eight years on my own, I'm excited to be teaming up with QA Graphics. Working and talking with Dan in late 2017, I immediately saw that this was a great fit," said Andrew Cox, owner of Solvent Web.
QA Graphics will capitalize on eleven years of experience by serving as project manager and offering various marketing solutions. Solvent Web will focus on providing high-quality web development and maintenance services, ensuring that clients receive a complete, one of a kind digital marketing service.
"We are excited to be able to offer these services to our customers and partners. QA Graphics has been developing web-based applications for over a decade, so this partnership fits into our process perfectly. We used Solvent Web to help with various websites, and we referred several projects to Andrew that went very well," said Dan McCarty, QA Graphics President.
About Solvent Web—Solvent Web has specialized in web development over the past eight years, offering solutions for responsive websites, cloud management, software development, IT consulting, e-commerce, and custom WordPress websites. Visit www.solventweb.com to learn more.
About QA Graphics—QA Graphics specializes in BAS graphic development services, system graphics, floor plan graphics, and Energy Efficiency Education Dashboards™ (EEEDs). The company also provides custom marketing solutions such as interactive applications, 3D design and animation, UX design, and videos. In addition to everything else, remaining vendor-neutral allows QA Graphics to specialize in creating top-quality graphics at affordable rates. Visit www.qag3d.com to learn more.