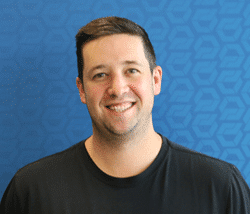 QA Graphics is proud to announce the promotion of Jordan Cashatt to Account Manager. Jordan joined the company in 2012 as a BAS Graphic Specialist and has recently been promoted to Account Manager. A graduate of the University of Iowa, Jordan has a Bachelor's in Communication and a proven professional history of speaking with customers and knowledge of the industry through his time as a graphic specialist.
We know Jordan will do a great job in his new role and provide our clients with exceptional customer service," said Dan McCarty, Owner. "His knowledge about our services, in addition to his previous work with customers make him a perfect choice for the job."
In this position, Jordan will be responsible for developing long-term relationships with customers and overseeing sales. Working to satisfy customers' needs and requests, responding to their queries and quote request in a timely manner to deliver a positive customer experience.
To talk with Jordan about your upcoming project, you can reach him at 515.965.3403 or [email protected]