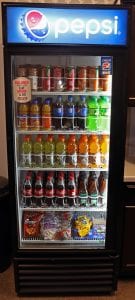 QA Graphics has made some creative office space updates for the staff and guest at the office. These updates are great perks for staff around the office to bring an even more comfortable and fun work environment.
The new things around the office include:
Stereo system: An overhead stereo system was put in place so that the staff is able to listen to music during the day and during social gatherings. We are able to control the conference room and pod area separately so that when we have meetings the pods are still able to enjoy the music.
Free vending machine: QA Graphics staff was able to select a variety of snacking options for the new cooler of assorted free drinks and snacks to replace the old pay vending machine in the break room.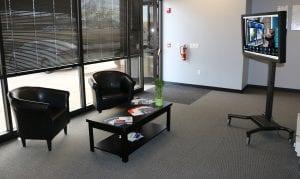 Waiting Area: QA Graphics rearranged the front entryway of the office and placed new furniture to create a nice inviting waiting area when clients and guest visit the office. A TV was also placed in front area as well to showcase our many talents that our staff holds. Showcasing projects and information about the company.