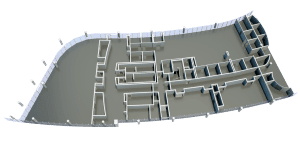 QA Graphics has become a fixture in the BAS industry while providing customers professional, premium floor plans for over the last ten years. End products are created using existing AutoCAD files, PDF's, and sketches resulting in customized 2D and 3D floor plan graphics. In the interest of maintaining best practices while continuing to offer high quality renders, QA Graphics announces upgrades to their floor plan standards.
These improvements include the addition of items such as doors, elevators, stairs, and curtain walls, as well as being lighter in appearance and a new viewing angle. These product offerings are in addition to the building detail options of zoning with duct work, windows, built-ins, railings, and furnishings.
Other service in this area offered are:
    Site Maps
    3D Site Renderings
    Interior Renderings
    Exterior Renderings
    Floor plan navigation graphics
About QA Graphics – QA Graphics is a leader in the building automation and green building industries. The company specializes in HVAC graphic development services, system graphics, floor plan graphics, and Energy Efficiency Education Dashboards™ (EEEDs). Since 2006, QA Graphics has served as an expert design resource for the building controls industry and is able to provide BAS graphics for any type of building automation. The company also provides marketing solutions such as interactive applications, 3D design and animation, UX design, videos, and more. Visit https://www.qagraphics.com to learn more.
To view this press release on PRweb please visit: http://www.prweb.com/releases/2016/10/prweb13758704.htm