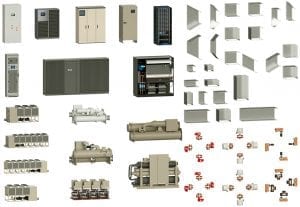 QA Graphics has been rolling out updates for its BAS Symbol Library v5, offering customers even more detailed and realistic graphics (.png & .gif format). These updates are free of cost for customers who have already purchased the v5.
Examples of updated and added graphics:
    Splitting/Merging Duct Pieces
    Butterfly Valves
    CVGF Trane Chiller
    6-Fan Dry Cooler
These updates offer a competitive advantage in the BAS industry, delivering more realistic graphics than typically provided with BAS software. The Symbol Library v5 has over 450 files available, more detailed visuals, and higher resolution images, giving users access to high-end graphics and animations that more realistically represent the mechanical systems in place.
Additional services provided with the Symbol Library v5 include 3D floor plans and branded template work. Call 515.965.3403 for pricing. OEM's can also contact us about creating a customized library for your software controls.
Visit QA Graphics' website to learn more: https://www.qagraphics.com/bas-symbol-library-2/.
About QA Graphics—QA Graphics is a leader in the building automation and green building industries. The company specializes in HVAC graphic development services, system graphics, floor plan graphics, and Energy Efficiency Education Dashboards™ (EEEDs). The company also provides custom marketing solutions such as interactive applications, 3D design and animation, UX design, videos, and more.
To see all of our updates: https://www.qagraphics.com/wp-content/uploads/2018/11/Quarterly_Update-2018.pdf 
To view this release online at PR Web click HERE.