QA Graphics, a full-service digital design company, is a recipient of a Gold Hermes Award in the Motion Graphics for Product category displaying their Raceway Piston video. The Hermes Creative Awards recognizes outstanding work in the marketing and design industry, with winners selected from over 6,000 entries worldwide.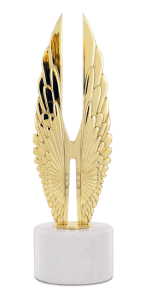 QA Graphics has over a decade of experience in 3D design and animation. By working with QA Graphics, Timeless Columbaria gained a video that showcased a virtual Richmond Raceway environment, including the Piston Statue coming to Virginia. The highlighted piece contains one of the 125 individual sections for fans to purchase, securing their favorite raceway memories for future generations. QA Graphics was honored to bring Timeless Columbaria's vision to life with a video message to capture the audience's attention to be used as a tool in their marketing efforts that showcases their unique product design.
"This was a unique project for our 3D Modelers to work on," said Dan McCarty, owner of QA Graphics. "They [Timeless Columbaria] have some great concepts for statues and monuments that we have enjoyed bringing to life."
The Hermes is an international competition, recognizing outstanding achievements by creative professionals involved in the concept, writing, and design, of traditional materials, programs, and emerging technologies. Winners are selected from 200 categories grouped under advertising, publications, marketing/branding, integrated marketing, public relations/communications, electronic media and pro bono. AMCP judges are industry professionals who look for companies and individuals whose talent exceeds a high standard of excellence and whose work serves as a benchmark for the industry.
To view the video visit:  https://www.youtube.com/watch?v=kGCsz8WI8SY
A list of Gold Winners can be found on the Hermes Creative Awards website at https://enter.hermesawards.com/winners/#/gold/2019.