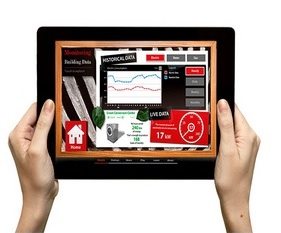 With a new Energy Dashboard project commitment by July 31st, 2015, we will include a free mobile application of your EEED. You can use your free mobile application on an Android Tablet, Android Phone, iPhone, and iPad.
QA Graphics' Energy Efficiency Education Dashboard® (EEED) educates building occupants with real-time energy data and green building features. The EEED creates occupant awareness through the display of building performance data, demonstrations of sustainable building features, tips on how to be efficient, and other interactive educational features.
Creating environmental awareness.
The Energy Efficiency Education Dashboard is ideal for any organization wanting to educate about their green building features and energy efficiency practices, anywhere, anytime. The dashboard is used by schools, universities, businesses, healthcare facilities, data centers, retail and more. Share the interactive application on a display in a common area, on the web, and on mobile devices.
Integration with Any BAS Communication Protocol.
To illustrate building performance, the energy dashboard communicates with the building automation system (BAS) or other devices to display the data in a way that's easy to understand. Display any data in the building automation system (energy, water, gas, steam, PV, wind, etc.) to then motivate everyone to make behavior changes and help lower operating costs.
Energy Dashboard can be used to:
Educate

Compare

Display

Measure
Disclaimer: Promotion is not available in conjunction with our two entry level offerings. Customer must request promotion in order to receive. Purchase order must be received the day the promotion ends. Customer must have Apple Developer account if they do not want QA Graphics to host app on the App Store. Google Play not included in offer. May be available with small additional fee. Supports only iPhone 5s and up. Additional fees apply for backwards compatibility.