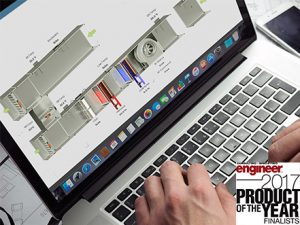 QA Graphics serves as an expert design resource for the building controls industry and can provide graphics for any type of building automation system (BAS). Collaborating with several leading control system manufacturers and private companies over the years, QA Graphics has used this experience to develop their new BAS Symbol Library v5 with state of the art 3D software and rendering styles. This collaboration also led to the creation of a building specification for the symbol library to be provided in the building specification process at no charge.
The benefit of this document is to ease the procedure of placing the symbol library in the building specification process. The BAS Symbol Library v5 specification provides you with clear, concise provisions that contain the information contractors need to outline the selected components and systems that will be used within the building. Highlighting important factors, such as file types, ownership, and the variety of graphics and animations needed to construct building automation system graphics and HVAC graphics or MEP equipment.
This library and specification document offers a competitive advantage in the BAS industry that can be used with 95% of BAS software systems available that allow for third party graphics. Giving users access to over 450 total graphic files available that are more detailed and high-end. This can include animations, in addition, to more realistically represent the mechanical systems in place. The license also permits the building owner to retain authorization to the graphics after installation for future use on any system that is installed within the building. QA Graphic's BAS Symbol Library v5 was also named Consulting-Specifying Engineer's 2017 Product of the Year Finalist.
Contact QA Graphics to learn how to obtain the Symbol Library specification at: www.qagraphics.com/contact-us