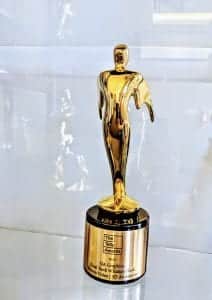 QA Graphics announced today its Dual Tank Whiskey Flask video (http://bit.ly/2tZY9CN) has been named Best Promotional Video in use of 3D Animation in the 40th Annual Telly Awards. The Telly Awards honors excellence in video and television across all screens and is judged by leaders from video platforms, television, streaming networks, production companies, and including Vice, Vimeo, Hearst Digital Media, BuzzFeed and A&E Networks.
"QA Graphics is pushing the boundaries for video and television innovation and creativity at a time when the industry is rapidly changing," said Sabrina Dridje, Managing Director of the Telly Awards.
QA Graphics, a full-service digital design company, has over a decade of experience in 3D design and animation. By working with QA Graphics, their client, Discommon Goods gained a custom video to use as a marketing tool to showcase their unique product design.
"Awards like this for us is about showcasing the level of work an Iowa company is capable of giving clients," says Dan McCarty, Owner of QA Graphics. "Competitions like the Telly who honor the video and television industry receive thousands of submissions from across the globe. With big companies such as Condé Nast, Netflix, Refinery29, RadicalMedia, T Brand Studio, and Ogilvy & Mather competing, to be grouped as a winner with brands such as these is an honor."
The full list of the 40th Annual Telly Awards winners can be found at https://www.tellyawards.com/winners/2019/promotional-video/craft-use-of-3d-animation

About The Telly Awards—The Telly Awards is the premier award honoring video and television across all screens. Established in 1979, The Telly Awards receives over 12,000 entries from all 50 states and 5 continents. Entrants are judged by The Telly Awards Judging Council—an industry body of over 200 leading experts including advertising agencies, production companies, and major television networks, reflective of the multiscreen industry The Telly Awards celebrates. Partners of The Telly Awards include IFP, NAB, StudioDaily, Stash Magazine, StudioDaily, Storyhunter, ProductionHub, The Wrap Pro, the VR/AR Association and Digiday. Find The Telly Awards Online: www.TellyAwards.com