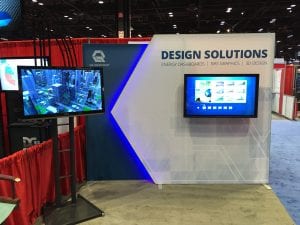 This year's AHR Expo is the biggest yet! From January 26th to the 28th over 2,000 companies representing every segment of the HVACR industry came to McCormick Place in Chicago, IL. AHR is all about helping businesses find better, faster, smarter, cleaner, and more efficient. Every year, hundreds of products are introduced to the market and every exhibitor is presenting their latest product available. This is the place to find the one-of-a-kind products and services all under one roof. 
What's so great about the AHR Expo is that it gives people the chance to interact face-to-face. People can get information directly from the experts and build relationships with the suppliers. Not only does it provide the opportunity for direct interaction with customers and suppliers, but the event also offers free seminars, presentations, courses, and certification exams.
The guys from QA Graphics have been keeping themselves busy for the past three days talking to everyone that walks by. Even a few of our customers were there in attendance. Daiken was showing off the specs of their magnitude chiller with an animation video we had created from them.
A new product that QA Graphics was able to show off at this year's expo was the new Image Protection Tool. The tool helps clients protect their images from being counterfeited, copied, edited, or resold. The guys were handing out free system graphic demo packs to interested consumers so that they can test it on their own Niagara AX.
In today's world, privacy and security of intellectual property seem to be nonexistent. Companies are spending thousands, if not millions trying to protect material that they already own. As a result of this demand, QA Graphics has designed a new tool that provides a service to protect any images they purchase from ever being reused by anyone else. 
Previously, QA Graphics would create custom high-end graphics and custom system graphics for companies without the protection of those images being reused and distributed by others. The Image Protection Tool now offers the ability to purchase a singular image, group, or package option with the reassurance that no one else can use them. If companies already have an image or images created, QA Graphics can then provide the protection for images that are not created by us as well. 
"Customer feedback is very important to us," said Dan McCarty, President of QA Graphics. "Nurturing relationships and giving customers what they want is vital to our success".   
Overall, AHR was a huge success! The introduction of our new Symbol Library 4, has sparked interest among existing customers as well as other industry professionals.