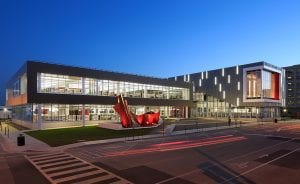 In June 2008 after a devastating flood swept through Cedar Rapids, hundreds of homes and business were destroyed including the city's Public Library. The entire first floor, which occupied an entire city block, of the 25 year old building was lost to the flood. Approximately 200,000 items in the collection were ruined plus the thousands of furniture items and pieces of electronic equipment.
"The new 95,000-square foot library was designed by OPN Architects to be a vibrant, multipurpose destination and a space for the community to mix and collaborate. The design of the new library was driven by the desire to embrace openness, transparency and foster public engagement with and within the space" (OPN Architects, 2013).
Preparing for the future
To assist OPN in demonstrating the new green features of the new building, QA Graphics worked with Baker Group to develop a realistic building infrastructure system, and then created an energy dashboard and three videos (Green Roof Demonstration, Cistern Demonstration Animation and Geothermal Demonstration Animation ) to help visualize the process. Baker Group is the Midwest's leading provider of critical building infrastructure systems, including designing, installing and servicing mechanical, HVAC, plumbing, piping, sheet metal, electrical, building automation, access control, security cameras, parking revenue control and fire alarm systems.The design of the building used a method called "future proofing" so that the space can be flexible to accommodate future needs of the community. A green roof was created for the library using energy and cost-saving features, and the roof itself will offer conservation-based educational opportunities for visitors.
"Green" Features:
A LEED-Certified Building, offering energy-saving and cost-saving design features at the Platinum level (top rating).
Leadership in Energy and Environmental Design (LEED) is a certification program of the U.S. Green Building Council.
Designed to exceed the Iowa Energy Code by 55%
Pump & Re-inject Geothermal HVAC System
Pre-flood Library used energy at a rate of 100 kbtu/square foot
New Library designed to use energy at a rate of 37 ktbu/square foot
Exterior Glazing covers approximately 37% of the building envelope
Thermally broken aluminum framing
1" insulating glass has low-E coating and is argon filled
Exterior Envelope: R-28, maximized thermal performance
Daylight Harvesting: (Daylight sensors, dimmable ballasts, and T5/LED Lights
Use of Natural Light: (15 solatubes and large clerestory on roof)
Storm Water Management: Retain 90% of normal annual rainfall and 100% of all rainfall up to 1" in a 24 hour period on site.
24,000 SF accessible green roof with rainwater harvesting for irrigation
Pervious paving with storm water collection chambers below parking lot
Source: Cedar Rapids Public Library – Downtown. (2013, January 1). 
Retrieved March 20, 2015, from http://www.opnarchitects.com/work/cedar-rapids-public-library-downtown/