QA Graphics' Energy Efficiency Education Dashboard™ (EEED) has been nominated as a finalist for the 2018 Consulting-Specifying Engineer's Product of the Year Award. This is a premier award in the engineering market for new products in the HVAC, fire/life safety, electrical, and plumbing systems. The winner is voted on by industry professionals.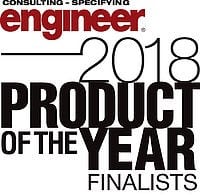 Voting is open now through June 29, with winners announced September 13. To vote, please visit http://bit.ly/CSEPOY18 to sign into the New Products for Engineers Database, or register. Then select "Product Voting Page" and "Consulting-Specifying Engineer 2018 Product of the Year" to cast your votes and view your submissions.
"Since the EEED's initial development, QA Graphics has continued to upgrade the product with valuable features for customers aiming to raise awareness of their energy consumption. Our goal is to provide the best possible product to our clients," said Dan McCarty, owner of QA Graphics. "We put in the time to ensure the needs of our customers are met or exceeded."
The Energy Efficiency Education Dashboard™ (EEED) is an HTML5 web application. It was built using Angular 5 coding, a WordPress Content Management System, and an enhanced Data Manager. The EEED educates building occupants by displaying real-time energy data and green building features. The EEED highlights sustainable efforts made in the design and construction of a building, which may help acquire points toward LEED® certification. QA Graphics' dashboards are used by schools, universities, businesses, healthcare facilities, and data centers. Applications can be displayed in a common area via large format kiosk displays, or on any web-enabled device. Our dashboard requires no monthly fees after your purchase of the dashboard.
Visit QA Graphics' website to learn more about Energy Efficiency Education Dashboards™: https://www.qagraphics.com/energy-dashboards/
Or visit CSE's New Products for Engineers Database to learn more about this product as well: https://gspplatform.cfemedia.com/pe/productProfile/58c1bd8be4b0513816a14d88