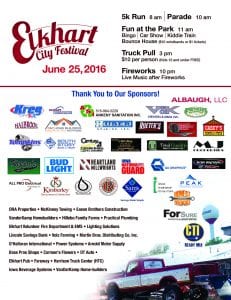 Giving back to the surrounding communities is important to us here at QA Graphics. We believe that our contributions and leadership efforts help provide a positive impact back to the community that our business and employees reside in. QA Graphic's business may be about building automation, interactive and multimedia platforms (www.qagraphics.com) but we are also about building relationships with our employees and clients, while interacting in their communities.
QA Graphics gives back in various ways throughout the year. The Elkhart City Festival June 25th, 2016 is just another way to do just that and to adhere to our core value of being fun and optimistic. We are proud to be one of the great sponsors for this event and know that it will provide a family fun atmosphere.
Giving back to the community should be on every business's list of top priorities and we here at QA Graphics make sure that it is. We hope that you can
"The best way to find yourself is to lose yourself in the service of others,"

the everlasting words of Gandhi.