QA Graphics, a leader in the building automation system (BAS) graphic outsourcing industry, is excited to announce the implementation of a new and dynamic communication technology in their QA Gateway Device. Their QA Gateway that partners with their Energy Efficiency Education Dashboards®, is now built with Raspberry Pi technology that uses DSA's open source IoT platform and data managing software.
Raspberry Pi 3 is small in size (about a credit card to be exact) but packing a big punch as the latest technology that has the potential to have a transformative effect on the HVAC controls industry. Being able to function as a web server and store a sufficient amount of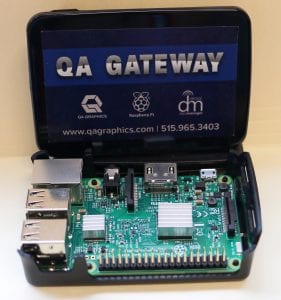 data, the QA Gateway enables communication between the Energy Efficiency Education Dashboards® application and the BAS gateway.
Some features of the Rasp Pi 3 used in the QA Gateway Device include:
Open Source
Runs on most popular version of Linux
1.2GHz Processor
1 GB Ram
Double the capacity
Longer battery Life
The new communication channel will allow for data collection via BACnet or Modbus protocol networked to the Data Manager. QA Graphic's Data Manager is custom made software that accurately and efficiently captures data from the QA Gateway using Microsoft SQL. Built using Microsoft .NET framework to run as a Windows service, the Data Manager is the backend application to our Energy Efficiency Education Dashboards® and serves as the middleware between the BAS gateway and the Energy Efficiency Education Dashboards®.
QA Graphic's Data Manager has the ability to import and export historical data and create manual entry points or add existing points from the building automation system. Allowing you to compare and share your building data in the form of an education dashboard.
Energy Efficiency Education Dashboard – The EEED is a web application that educates building occupants by showcasing real-time energy data and green building features. The EEED highlights sustainable efforts made in the design and construction of a building, which may help acquire points toward LEED® certification. QA Graphics' dashboards are used by schools, universities, businesses, healthcare facilities, and data centers. Applications can be displayed in a common area via large format kiosk displays or on any web enabled device.
To view the press release online visit: http://www.prweb.com/releases/2016/09/prweb13695766.htm