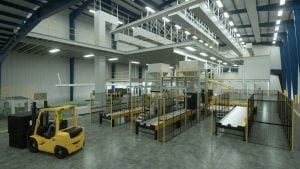 In today's competitive business environment, organizations are consistently seeking ways to maximize their return on investment and streamline processes. Leading organizations understand that well-trained employees are the cornerstone to their success.
3D interactive e-learning tools
When a global agricultural company was seeking a short training video, they came to QA Graphics with a vision of an end product. QA Graphics turned that vision into a contemporary, realistic 3D interactive e-learning tool that has the potential to transform the production process.
The client initially wanted a short instructional video that showed the seed production process from harvest to delivery. Because of the client's contingent of seasonal employees, there often is a lack of understanding of the entire production process. Without a complete understanding of what happens when corn is picked, delivered, husked, conditioned and treated, for example, quality and productivity may be sacrificed. It can be difficult for employees to grasp the full capabilities of equipment or even how to fix a simple malfunction.
Standard equipment and process manuals are often technical, one dimensional, and lack relevance when it comes to scale. Language and learning style variances also can influence overall results. QA Graphics knew that the key to better-trained employees was to bring the processes to life through animation and 3D interactive e-learning.
QA Graphics worked closely with the client team to gain a thorough understanding of the production process. This included a facility tour, where photographs were captured that provided details about the equipment and overall plant layout. The client also invested in a 3D facility scan to obtain point cloud data of the exact layout and dimensions. Because a desired outcome of the training tool was a visual fly-through of the facility, the point cloud data helped QA Graphics to accurately and quickly model the corn receiving, conditioning and treatment facilities.
Armed with diverse content, QA Graphics created a storyboard for the client to review. The storyboards included details of each scene, outlining what was occurring in the scene and the accompanying narrative. Once approved by the client, the storyboard served as a roadmap throughout the development of the video, which led to efficiencies in cost and production time.
Robust animation provides flexibility
QA Graphics chose animation for the process in lieu of video footage. Animation offers flexibility by keeping the training process contemporary, and allowing for real-life equipment scaling and interactive demonstrations of how equipment works. For example, if a component of the equipment needs to be replaced, an operator can go to a kiosk or computer and see firsthand how to replace the part. Animation also protects secure information by allowing programmers to slightly alter the visibility of proprietary components. Beyond these features, images and narration generally can be updated in a more cost-effective and timely manner than video footage.
With a realistic 3D interactive e-learning tool that provided information on specific tasks as well as the overall production process, the client can confidently move new employees into production work sooner. Because employees aren't left to interpret training manuals on their own, ROI improves in everything from productivity, to a reduction in potential workplace safety injuries.
Applications for this type of interactive, animated product offering are endless from manufacturing processes, to selling the benefits of equipment, and to fostering an understanding of complex engineering protocols. The service combines all of QA Graphics versatile capabilities into a dynamic e-learning tool!