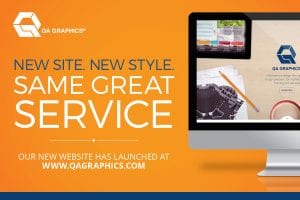 QA Graphics, a full service digital design firm, announced today that it has officially launched their new website, updating their online presence.
"We wanted to refresh our online branding by providing customers with a more user-friendly web experience, but still effectively communicate our unique services and product offerings," said Director of Marketing, Jon Dlouhy. "QA Graphics is an award winning digital design firm, it was time for our website to reflect that."
 The new QA Graphics website offers a clean, modern design, user-friendly, and a content rich website experience that allows customers to more easily learn about service offerings, specific to their industry. The new site also allows for customers to conveniently purchase BAS graphics, and HVAC graphic packages, directly from our site. If customers would rather purchase by phone or email, they can continue as they have done in the past.
The site also has a more personable touch. "We have such a fun and dynamic team, we really wanted to capture that with our employee profiles and the new site really does just that," said Director of Marketing, Jon Dlouhy. "Customers like being able to put a face to a name."
 QA Graphics' blog will continue to be updated weekly and shared across all social media platforms. Starting in May, the company will begin a monthly newsletter focusing on industry trends, technology news, case study examples, and company updates. The sign-up form is on the new website.