Virtual Reality allows you to get your point across by giving customers realistic views from any perspective in a hyper-realistic way.
EMAIL INTERVIEW

 – Dan McCarty 
and Ken Sinclair
Dan McCarty, President, and Owner, QA Graphics
Sinclair:  How did QA Graphics venture into Virtual Reality?
McCarty:  Virtual Reality is already changing how industries conduct business and how investors capitalize on commercial properties. For QA Graphics, this is simply just another step forward from our already photorealistic 3D video creation that we are producing for our clients. VR allows you to get your point across by giving customers realistic views from any perspective in a hyper-realistic way.  Plus, you are saving time and money, which is another key factor. We see this fitting into several industry areas of our client base and want to be able to offer our clients that next step.
The example of the commercial property we created is just the start of our capabilities. View the 360° virtual tour of the neighborhood below.

Drag the mouse around to view the district as you fly through.
Sinclair:  The example you created started in the Commercial Real-Estate industry, what are key factors of VR that apply to any industry?
McCarty:  With technology rapidly changing, traditional methods in the commercial real-estate and other industries as well are tapping into this newer offering. Some key factors for VR is flexibility, mobility, affordable, and usability.
By the power of your smartphone that you carry in your pocket already and a headset or a video player on a cpu which allows you to rotate and view, you can accurately view a building. Seeing it as if you are there, yet be sitting at your desk. There is no traveling and your team can focus on other larger task at hand, while you let graphic professionals like QA Graphics work on the 3D modeling and VR creation. Saving you time and money by allowing you to view any potential issues before completion.
Sinclair:  What are other ways you see your company venturing into with VR?

McCarty:  QA Graphics see several opportunities for virtual reality. One way we see it progressing is by incorporating it into our dashboards. We have been doing video fly throughs already for dashboards and other applications used for marketing. With this added feature, we see it being able to show a manager live data and incorporate important stopping points of interest. Educating Facility Managers on their energy use by bringing a typical 2D design to life.
Sinclair:  How will VR impact the construction phase?
McCarty:  Stakeholders, Facility Managers, or Construction workers, for example, will be able to visualize a space, space planning, or new construction like never before. Allowing all of those involved in the project to have insight into the process earlier will create better communication in coordination, modeling, and quality control for example. Creating a better environment for feedback, highlighting features that would typically be overlooked, or address common questions. You will be able to be on location or hundreds of miles away surveying what is currently there, then peer into the future for what will be installed. All of this will now be capable just by placing the headset on.
Sinclair:  How do you see virtual reality taking shape in the building automation world?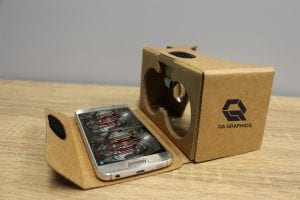 McCarty:  Virtual reality will become a tool for people out in the field such as Facility Managers and maintenance. By being able to see issues that arise within the walls that they could not see otherwise. With the ability to apply layers, a manager can take away the wall view to see the right of ways for the electrical, plumbing, ductwork, and any utility really, to see situations within the wall accurately.
Interview was originally posted at: http://automatedbuildings.com/