What is a Dashboard (EEED)?
QA Graphics' HTML5 Energy Efficient Education Dashboard (EEED)® v6 is a web application that is designed with the intent to educate building occupants with real-time energy data and green building features.  The HTML5 EEED® v6 has a one-time fee and allows you to own all of your data. This EEED was created to illustrate building performance by communicating with the building automation system (BAS) or other devices to display the data in a way that's easy to understand. The data collected gives contractors the clear, concise information needed to meet LEED requirements for your energy dashboard that may help you towards getting your LEED® certification.
The Two Types: Educational & Energy Monitoring
With climate change and a subsequent worldwide movement towards sustainability on the rise, energy dashboards are becoming more of a necessity. While most companies are focused solely on the energy monitoring aspect for cost savings, overall efficiency boosts, etc., QA Graphics puts the main emphasis on the educational aspect. The HTML5 EEED® v6 not only displays the real-time energy data it receives, but also includes modules for the sole purpose of educating the building's occupants to further promote sustainability.
How to use it to Educate Building Occupants—Customizable Modules
Interactive Quizzes
Site Maps
Building Performance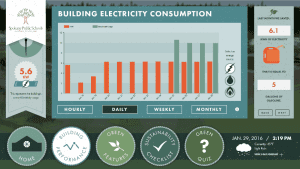 LEED/Sustainability Checklists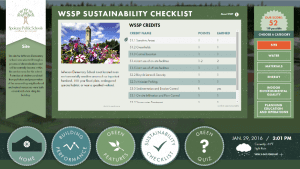 What is an EEED Spec?
Our EEED Spec is an outline of everything—hardware, process, & functionality. It's a guide that lets you know what system components will be installed from the hardware, software, mounting accessories, wiring, etc. This means there's no confusion as to what comes next throughout the entire process.
Benefits of Using the HTML5 EEED® v6 Include:
Owning Your Own Data
CMS is user-friendly WordPress
No Internet Required
No Annual or Recurring Fees
Resides Onsite
Secure Way to Display Building Automation System (BAS) Data

To Learn More About LEED Certification and other Sutainable Programs Visit: https://new.usgbc.org