Evaluate. Educate. Eliminate.
QA Graphics' award-winning Energy Efficiency Education Dashboard® (EEED), educates building occupants with energy data and green building features using a kiosk or desktop, tablet, or mobile device. The EEED creates occupant awareness through the display of building performance data, demonstrations of sustainable building features, tips on how to be efficient, and other educational features. All data that is obtained for the EEED is your own to use.  
Educating Students on the Importance of Sustainability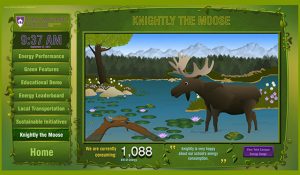 The EEED was recently integrated to work with St. Michael's College to educate their students about their green building features and energy efficiency practices. For the fourth straight year, St. Michael's College was named in The Princeton Review's Guide to 322 Green Colleges. Our dashboard is used by schools, universities, businesses, healthcare facilities, data centers, retail, and more.
Demonstrate an organization's sustainable pursuits and achievements 
Compare building performance data between floors and/or other buildings
Translate utility data into easy-to-understand values (e.g. "48,500 gallons of water have been saved. That is enough to wash 1,080 loads of laundry.")
 "It wasn't your typical dashboard that just showed real-time energy usage, but it allowed us to focus on why knowing energy usage was important and had features that could explain to students what a kilowatt was. We also found the ability to make it our own incredibly enticing."
– Heather Lynch, Sustainability Coordinator/Associate Director of Facilities at St. Michael's College